Mount Dora Pet Services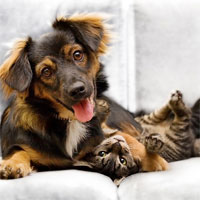 We all love our pets very dearly and want nothing but the best for them. They are indeed a part of our cherished family. However, perhaps for a multitude of reasons you can't provide the level of care and protection that you feel is best for them. It may be because you are simply getting older and just can't get around like you used to. Perhaps you have experienced an injury or have a serious illness, it may be that your situation is only temporary as you recuperate from a medical procedure.
It also could be that you are going away on vacation and you're not able to take your pet, and you don't want to leave him/her at an impersonal kennel. Errands Etc. of Lake County, LLC can provide all the love and attention your pet deserves, from being a pet sitter and dog walker to home boarding. See our list of pet services below.
Pet Taxi to the Veterinarian or Groomer
Mid-Day Potty Breaks
Pet Sitting
Pet Walking
Pet Home Boarding
Pet Food and Supplies Purchasing & Delivering
Pet Visitations Includes Play Time
Water and Feed
Clean Bowls After Each Use
Clean Litter Boxes
Medicate at Scheduled Times
Serving the Mount Dora, Tavares, Leesburg, Eustis and the surrounding area.